THEATRICAL PROGRAMME:
ALFRED VE DVOŘE, Františka Křížka 36, Praha 7
10 November 2011

20:30
Admission: CZK 100
Danza Mobile: Give me a second (Dame un segundo)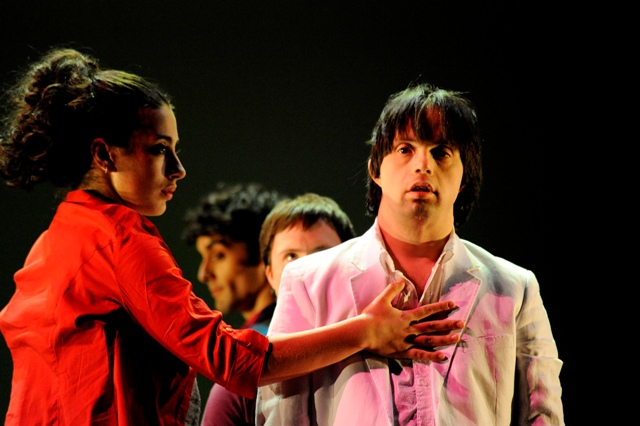 This project by the Seville-based company Danza Mobile is based on the poetry of José Manuel Muñoz, an artist with Down syndrome. It is a walk through his parallel world in which what he longs for as a person with an intellectual deficit is what the rest of us all have, but forget. Conversely, he has what we long for: the freedom to be, the freedom to live without evaluating every moment. He says "give me a second", he is not in a hurry, he is able to stop every moment and thoroughly experience it. Five poems, five dancers, five moments of life…
Performers: Manuela Calleja, José Manuel Muñoz
Jaime García, Helliot Baeza, Arturo Parrilla
Choreography: Manuela Calleja
Direction: Ramón Perera
12 November 2011
Evening with Ich bin O.K. and Inventura Theatre
Admission: CZK 80 for the Inventura Theatre production, CZK 100 for the Ich bin O.K. production, CZK 150 for both productions including small refreshments
20:00
Ich bin OK: Moha in Dir
Moha is a Hopi (Mexican Indian) symbol that stands for a flower, but represents also the harmony of natural powers – of water, air, fire and earth. The balance of these principles was violated by disrespecting the needs of man and of his environment. Moha in Dir ("Moha in you") reminds us of the need to respect oneself and esteem our skills, but also our imperfections. Each of us has a distinctive personal character and talents, and requires his or her own work tempo and life rhythm. The production is performed by thirteen dancers with disabilities and without them, members of the Vienna cultural education association Ich bin O.K.
Dancers: Johanna Ortmayr, Clara Horvath, Laura Kautny, Sophie Waldstein, Robert Schmiedt, Severin Neira, Stefan Musil, Mike Brozek, Markus Samek, Hana Zanin, Attila Zanin, Stefan Voglsinger and Romy Kolb
Choreography: Hana Zanin and Attila Zanin
Concept, set and costumes: Hana Zanin
21:00
Inventura Theatre: Cabaret at the End of the World or Clearance Sale of Comedians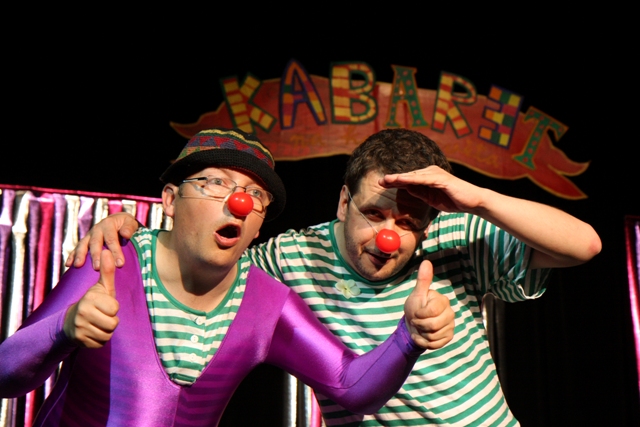 Cabaret. A word shrouded with illusion, simultaneously arousing joy and contempt, and provoking laughter – by the entertained as well as the mocked. A word evoking entertainment, music, dance, humour, gaiety. And also kitsch, lowball humour, stretching the limits of good taste or perhaps going beyond them here and there. In any case a space where life defies established practices, a place where ordinariness does not belong, a place of forgetting. Cabaret is a production that weaves the personal stories of its individual protagonists with a fictitious plane of would-be comedians trying through their craft and with all their strength to combat the world's incomprehension. A non-traditionally traditional approach to variety clowns, dancers, singers and other hams. All live! Results uncertain, but definitely surprising!
Performers: Dagmar Filípková, Jaroslava Krpálková, Josef Fojt, Patrik Horvát and Martin Vošmik
Direction: Ilona Labuťová and Štěpán Smolík
---
zpět
|
nahoru
|
domů